Summerschool Junior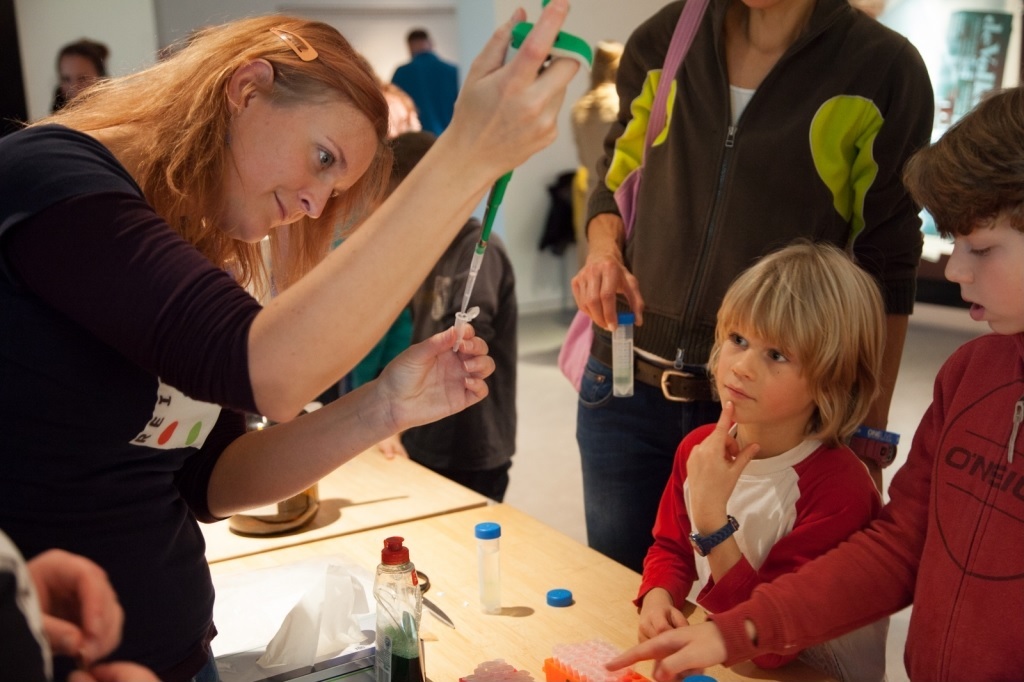 During Summerschool Junior, 180 primary school children visit the University Utrecht campus for a week to learn about diverse topics like veterinary science, geosciences and social sciences. The Mobile DNA-lab 'Language of a Tumour' developed a 2 hours programme on DNA for these 8-12 year olds.
The programme consists of three parts:
1. Playing a game that clarifies that we are all unique because of our DNA.
2. DNA isolation from a cheek swap that the children get to do themselves. It shows them what their own DNA looks like and yes, they get to take it home!
3. Building a strand of DNA from candy. The code of the DNA-strand is composed of a (made up) sequence based on their hair colour.
The programme is a continuous blend of playing, discovering, and learning. This (inter)active approach ensures a high learning curve and a lot of fun!
28 Aug 2017
Amgen Foundation launches Amgen Biotech Experience in the Netherlands
In the next three years, the DNA Labs on the Road will collaborate with the Amgen Biotech Experience to educate Dutch high school students about biotechnology.
Read more >
16 Jun 2017
CGC members awarded Spinoza Prize
We proudly congratulate our CGC members Alexander van Oudenaarden and Albert Heck for being awarded the Spinoza Prize. Albert Heck, isprofessor in the field of mass spectrometryand proteomics. Alexander van Oudenaarden is professor of quantitative biology of gene regulation and director of the Hubrecht Institute.
Read more >
18 Nov 2016
Gogola wins CGC poster award
On November 18th, Ewa Gogola (NKI) was awarded with the CGC poster award 2016. Eva received the award during the KIT meeting on Genomic Instability in Cancer for her poster entitled 'Loss of PARG causes PARP inhibitor resistance in BRCA2-deficient mouse mammary tumors'.
Read more >
More News >
16 & 17 Nov 2017
CGC annual meeting New Horizons in Cancer Research
On 16-17 November 2017, CGC will host its annual meeting entitled 'New Horizons in Cancer Research'. Attendance is free of charge however. Registration is closed. Location: Koninklijk Instituut voor de Tropen, Mauritskade 63 Amsterdam.
Read more >
29 Sep 2017
CGC PI meeting
This year 10 new PI's joined the CGC consortium. During the meeting on September 29 they will present their work and expertise.
Read more >
31 May - 02 Jun 2017
Workshop: Functional Analysis of Sequence Variants in Hereditary Breast- and Ovarian Cancer Genes
Improving Genetic Counseling and Cancer Treatment Strategies
Read more >
More Events >